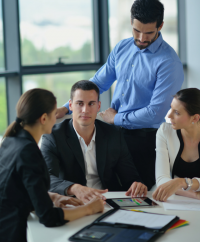 Acquiring top talent has long been a primary focus of high-performance technology firms. At Anderson Sterling Associates, we are poised to match the demands of tech company executive teams with the industry's leading talent in these specialized roles. In a highly competitive, rapidly changing marketplace, our unique, synergistic approach to bringing technology professionals to key positions within the nation's leading tech companies has proven to be an invaluable competitive edge for our clients. Our clients agree that ASA is the best of technical and IT recruitment agencies they have ever worked with.
Anderson Sterling Associates does one thing extremely well. We specialize in researching and recruiting the very finest talent for high-tech firms, helping our clients fill leadership positions with quality people. 
We have accumulated a great deal of expertise after almost 30 years of matchmaking for tech companies specializing in medical devices, aerospace/defense, robotics, consumer electronics, and more. Our clients describe us as a valued partner, working directly with their Human Resources team. Our recruiting strategies allow us to know your company as well as any in-house staff. ASA takes the labor- and time-intensive aspects of recruitment off your plate, allowing your people to take on other critical functions in your day to day operations. It's what makes us one of the best technical and IT recruitment agencies.
How does ASA stand out?
Unlike a typical search firm, we don't collect a retainer and there is no contingency fee. We will provide you a proposal that outlines the time and cost of hiring the positions you have in mind. 
Our fees are more than competitive with the cost of retaining an in-house recruiter, especially since our expertise is fine-tuned to your specific industry. 
You have complete control and flexibility over how much you spend. There are no hidden fees or surprises.
Unlike in-house recruiters, we can contact candidates who haven't started to look for a different position. Most likely, the best personnel are currently employed. We can also recruit top talent that are currently working for your competitors. 
We don't waste your time. We thoroughly research candidates so that you only need to consider a few outstanding candidates who exceed your expectations and fit your company's culture.
Human Resources departments do not see us as adversaries. On the contrary, we work closely with HR departments and learn about your company's culture as much as an in-house recruiter would.
How much is your time worth?
Would you rather spend your resources and time sifting through hundreds of resumes looking for candidates who meet your criteria, or would you rather invest those resources in something else? One of the many things that make ASA stand out as one of the best technical and IT recruitment agencies is our collaborative approach with HR departments. We do not replace HR departments nor do we add more work for them. We help you recruit the best talent in the industry by devoting as much time as is needed to your company. 
In many cases in-house recruiters are more cost-effective than executive search firms. Anderson Sterling Associates saw the need for a third option that would combine the cost efficiency of in-house recruiters, as well as their knowledge of the company, with the expertise and industry-wide reach of an executive search firm.
We utilize unique, proprietary recruiting strategies that give us access to the most talented leaders in your industry, even those who are not actively looking for a new job. We bring the full force of our expertise to finding the perfect candidate for key positions in your company. We guarantee our rates and your satisfaction. 
Growth in your firm is an exciting time and happens because you excel at what you do. Anderson Sterling Associates can support your growth through recruiting strategies that bring you the right people to grow with you and help you continue to excel. Call us today and find out how your business can succeed with ASA - one of the best technical and IT recruitment agencies! 
Testimonial
"I have been working with Anderson Sterling Associates (ASA) for over 20 years and have recommended them to our partners as well. What sets them apart is their innovative approach of locating candidates who fit the qualifications we are looking for. ASA has helped find the highest level of talent for the company."
VP of Development Programs at Hutchinson Aerospace